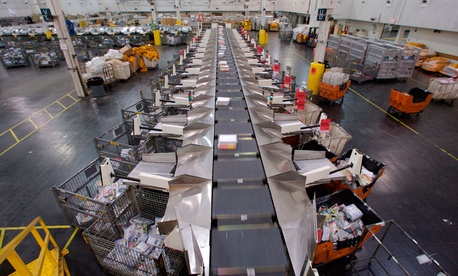 The U.S. Postal Service has postponed its scheduled second round of mail processing center closures, the agency announced Friday, marking a temporary victory for postal employee unions.
Phase two of USPS' "network rationalization" plan was scheduled to kick in Feb. 7 and would have ended overnight delivery for mail sent and received in the same area. This would have resulted in a major consolidation of processing facilities.
The first phase of the plan was scheduled to close about 140 processing centers and the second phase would have closed an additional 90, according to agency estimates. The Postal Service maintained 487 processing centers nationwide before the consolidations began in 2012.
A USPS spokeswoman declined to comment on the reason for the postponement, but said the agency plans to reschedule phase two at some point in the future.
Read more: Postal Service Delays New Wave of Mail Processing Closures – Management – GovExec.com.