Hundreds of Chicago Postal Workers,
Joined by Labor and Community Activists,
Protest Outsourcing of U.S. Post Office Services to Staples
Message to Staples: Staff Postal Counters with Postal Employees
Members of the American Postal Workers Union from the Chicago area, joined by hundreds of labor and community activists, will protest on Saturday, April 5, in Elmwood Park, against a deal between the U.S. Postal Service and Staples to move mail services into Staples stores.
Who:     APWU President Mark Dimondstein, hundreds of APWU members, labor and community activists from the Chicago-area and across the nation
What:    Protest against USPS' outsourcing of services
When:   Saturday, April 5, 12:30 p.m. to 1:30 p.m.
Where:  Elmwood Park Staples Store – 1850 N Harlem Ave, Elmwood Park, IL 60707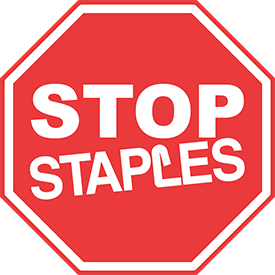 In October, the USPS announced a no-bid, sweetheart deal to open postal counters in more than 80 Staples stores. The Staples postal counters are less secure than public post offices and they are staffed with low-wage Staples employees.
The U.S. Postal Service and Staples plan to expand this "pilot" project to 1,500 Staples locations nationwide, while the USPS eliminates public post offices.
The Elmwood Park protest is the latest in a series of protests by postal workers and supporters against Staples' program.
"This is a bad deal for consumers, for workers and for the country," said APWU President Mark Dimondstein. "It makes no sense to transfer critical public services to a private, for-profit company that has closed 159 stores in the past year and recently announced it will close 225 more stores by the end of next year."
"Instead of using public resources to bail out a struggling company, the USPS should use its unmatched nationwide network of people and facilities to take advantage of new opportunities such as package delivery for e-commerce sales and offering new services — like low-cost basic banking — that meet the needs of American consumers."
"As a nation, we need to decide what kind of Postal Service we want," he said. "Are we going to have a vibrant, modern, public mail system, or are we going to let privatizers kill this great institution?"
"If we're going to have mini-Post Offices in Staples stores, they should be operated by uniformed postal employees, who have taken an oath and are accountable to the American people."
Postal workers and supporters are planning for a National Day of Action with scores of protests planned for April 24 at Staples stores across the country. For more information, consumers can text "postal" to 91990, or visit StopStaples.com
*  *  *
The American Postal Workers Union represents 200,000 employees of the United States Postal Service, and is affiliated with the AFL-CIO.